Forgot to share this little gem from MM's play on Tuesday. A grandmother, her daughter & the daughter's 3 children moved in across the street in August. There is a little girl over there that looks to be MM's age. I must admit that I have been too self-absorbed to go over & introduce myself. However, the road goes both ways. We have been out in the yard playing while they were out too. When we were at the school, DH recognized the grandmother behind us in line to get in. I turned around and said "I believe you are our neighbor. My name is
Meghatron's Mom."
I extended my hand & the she began to talks. Boy did she talk. She told me her name, about her daughter & the grandchildren. She had a granddaughter who is in kindergarten as well. She then went on to say she had no idea a child lived across the street until she saw "
THAT BUS,
you know,
THAT BUS,
the bus for
THOSE
kids".
OOOOKAAAAAAAAAAAAAAAYYYYYYYY.
THAT BUS. THOSE KIDS.
So, I replied,
"THAT BUS
is what my child rides to school and yes, she is one of
THOSE KIDS
. She is a kindergartener in Ms. X's class here at this school that your granddaughter goes to as well."
And I left it at that. I didn't go into why she rides
THAT BUS
or why she is one of
THOSE KIDS.
MM doesn't have to be the poster child for disabilities every day. I also didn't know if the lady was ignorant or not. I just wanted to be like every other family member there, excited to see my kindergartener in her first play, enjoying the moment.
And I did.
Here comes my Pilgrim Woman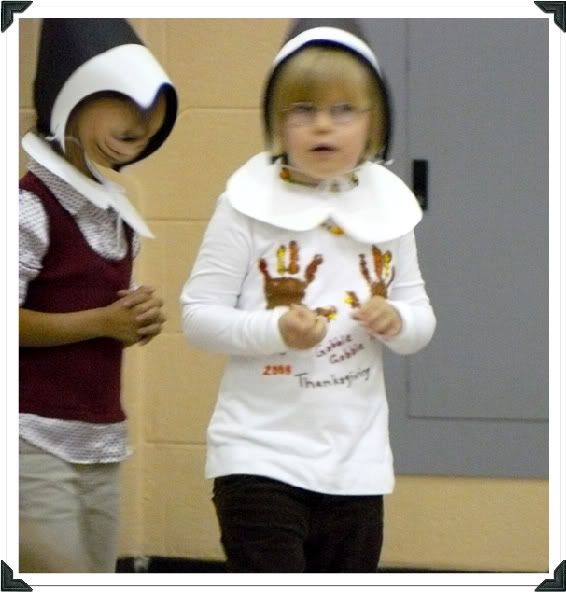 And a little video of her singing & doing the movements!
VIDEO REMOVED


I AM SO PROUD!


EDITED TO ADD:
For some reason the video doesn't work in my blog, so CLICK HERE.