For once I am not whining... I actually have some good news.
MM appts went well this week.
She saw the immunlogist on Monday- no RA, no lupus. She just has a poor immune system, possibly related to her prematurity. We are to continue to keep her away from sickies, etc (who would have thought after 4 yrs we would still have to live like hermits in the winter). He said a simple illness could be a major one for her- which is true. He is amazed that an illness hadn't hospitalized her yet- we have come close many times, but I have just managed her at home. They will recheck her blood in a year though. Sometimes the bump in ANA is a precursor to lupus & it just might not have showed up yet.
She saw the opthamologist on Thursday. Again, good news. The bifocals seem to be working for the moment. We will continue with those & see how she does. We will go back in April & recheck her. He said there isn't a rush to surgery if the interventions are working. He said they used to rush into it & kids ended up needing another surgery to correct it. I am okay with waiting it out, so long as we don't miss our window to fix it. He said the window to fix is a lot longer than it used to be. So, good news x2!
FINALLY
We have a milestone moment....
MM's crib was convereted into a toddler bed! She asked for a big girl bed & wanted princess bedding. She still has a rail we added to it, but she did great! She slept in it last night for the first time, no problems! She did not want to get out of bed this morning! I can't believe that she is finally out of a crib! It only took 4 years, 4 months, 2 weeks & 1 day- but who's counting! LOL! My baby is growing up.. **sniff, sniff** Happy tears though!
Here are some pics of her trying out the new bed! Nana bought the bedding & made a frilly dust ruffle for it. She is also going to make us some very girly curtains.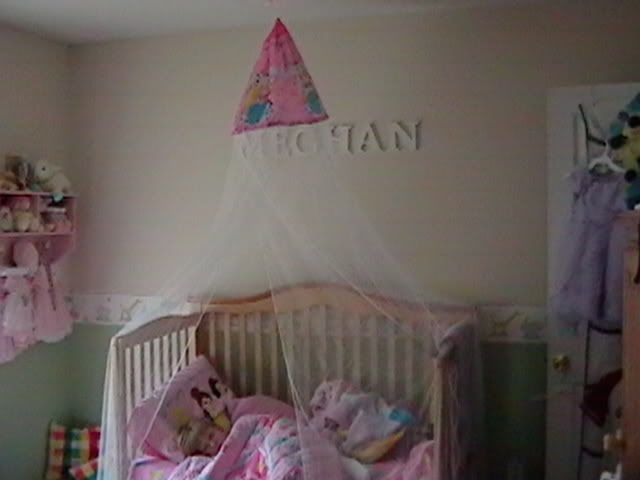 Who wouldn't want to sleep in this bed!
Doesn't she look happy & content?

And that, my friends, is one post without whining, complaining or grousing!